Robert Lawrence Cook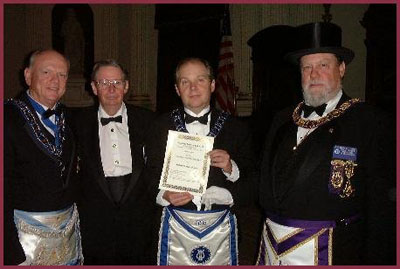 Growing up in Malden, Massachusetts has its benefits:
One: the people are of humble roots;
Two: many rise to meet great aspirations.
This Brother was educated in a craft and a passion that many can only dream. Soon after starting a family, he was raised in 1983 in Monitor Lodge, now Waltham-Triad, in Waltham, and now lives in Waltham. He rose to Master of Monitor in 1988. As an educator in the Public School, he instills his passion to countless children. For well over a dozen years, this Bother served Columbian Lodge as he had served many Masonic bodies and in 1996 affiliated as a member of Columbian. From year to year we look to this Brother for his cadence. To "Note" the "Score" and to "Chime" in by "Pulling all the Stops", we applaud the "Harmony" he brings. We stand to attention for his Hail to the Chief and his Columbia the Gem of the Ocean on the Corinthian Hall's pipe organ.
Presented by Bro. Ronald Doucette, Secretary