Located in Boston, MA - Instituted in 1795 by Paul Revere.
Michael Arthur Sandberg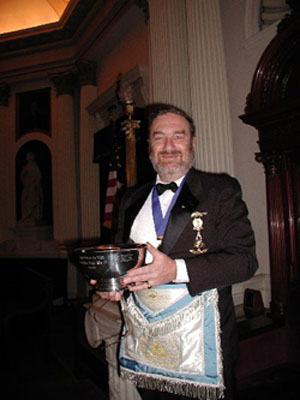 If President Bill Clinton were in this room, he would say this was a man after his own heart! Born a year after Clinton, this Brother is a true baby-boomer. Born in New York City and transplanted to New England makes this Boston Red Sox Fan remember a rich past. While hitchhiking everywhere and living overseas he put his Brandeis and Brown Education to work in medicine in Israel. During that time he met and married his spouse in the "Summer of Love" year of 1969. With two lovely children and relocated back in Boston, this Brother immersed himself in the passion of medical research and teaching. As an avid tennis player and Classic Comedy Film buff, strength and humor gave him inspiration to desire to rise to Worshipful Master of Columbian. There he officiated over the makings of a successful Bi-Centennial Celebration and the raising of many Master Masons. He is active in the work of this lodge, Past Master of a north shore lodge, the Shrine and Scottish Rite. He is also involved in the Lions Club and the Eyemobile. But, at Columbian Lodge he is always willing to give all that he has to give.