Daniel Richard Madore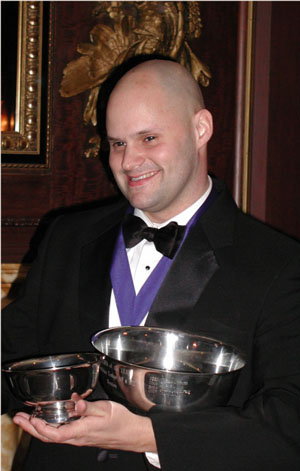 As one of his first acts as our new Master, Wor. Smith asked me to present the Columbian Brother of the Year award. And though this night is really about celebrating our newly elected Master and his officers, we thought it was also a perfect night give this special award.
The Brother of the Year award was established a few years ago at the suggestion and hard work of our Secretary, Bro. Ron Doucette. It was to be an award that recognized that brother – that "worker in the vineyard" -- who had gone above and beyond his role as a brother during the previous year to help our Lodge, his Fraternity, his brothers, and our charities.
Our first three recipients, Wor. Bob Cook, Bro. Warren French, Wor. Michael Sandburg, were obvious choices. All of these brothers had given many, many years of selfless dedication to Columbian -- and their award, in part, was a tribute to those many years.
It was also easy to put together their biographies for this award – wives could tell us how they met -- and their baby boomer brethren could tell us funny stories. This last year, however, we have a brother who in many ways came out of nowhere to become the hands-down choice of the selection committee.
This is a brother who is already a legend at Columbian without yet having a baby-boomer history. In fact, it was difficult to find a history at all that wasn't somewhat – how can I say this – a little tainted. In fact, though we're happy he's a Columbian now, we're trying to figure out how he got past the investigation committee in the first place.
First off, he doesn't have a wife – that we know of -- so we couldn't get any good information there. There were a whole slew of ex-girlfriends, but we couldn't get ANYTHING good there.
We did find out a few things in our research, however. And this research led us to believe that if he's not a baby boomer, he's at least a baby boomer wannabe.
For example:
… though he's not a baby boomer, even though he had lost his job, still had to drive a BMW. … though he is not a baby boomer, he made a conscious choice to go to Vietnam – on vacation. … though not a balding baby boomer, he made a conscious choice to loose his hair – completely.
… though not a baby boomer, he has been rumored to have been in the Secret Service.
Seriously, this is brother who, though he isn't old enough to know many of our long absent brothers, took upon himself, over the last year, the difficult task of trying to update our address book and try to bring back those Rusty Brethren who hadn't been to Lodge.
He spent long hours on the phone—often on his own dime -- making calls everywhere, asking long lost brothers were they have been, writing down their information, and inviting them to come back to Lodge again. I've even been told he called Don Vose and chastised him for not coming to Lodge.
Seriously, this is a brother who does everything without asking. A brother who showed up at literally every event we had – even the Chip Event in Walpole.
A brother who made my job easier by taking all our new Master Masons under his wing. A brother who gave at least twenty Tours of Grand Lodge during September's Square and Compasses Day. And a brother who then made it his responsibility to keep in contact with every new candidate who came through the front doors. And a brother who volunteered to be our new Lodge Ambassador for our new candidates – a huge job.
This is brother who, at least according to all our new candidates, IS Massachusetts Freemasonry. And IS Columbian Lodge.
Yes, Brethren and guests, this year's winner was in every way our Brother of the Year. Though we don't know that much about his past, we certainly know about his future at Columbian. It gives me great pleasure to present this year's Brother of the Year Award to our new Junior Deacon, Daniel R. Madore.
Presented to Bro. Madore by Wor. Robert E. Heruska on 12/1/2005