James J. Howard, III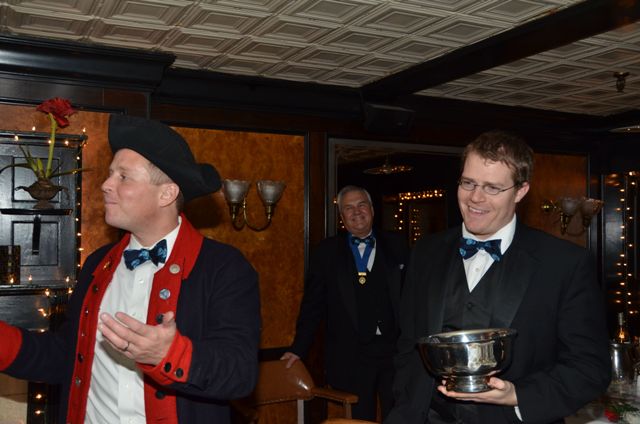 As the senior Officers of Columbian Lodge, it is our duty and our privilege to present the 2010 Columbian Brother of the Year award to Brother James J. Howard III.
James came to us as an affiliate Brother from his mother Lodge in Cincinnati. Their loss has been our gain. In his short time as a Columbian Mason, James has demonstrated a deep passion for the Craft, getting involved not only in the Blue Lodge, but also at the district level. In fact, James has already held district level positions in multiple districts, often doing highly visible but very thankless work. As the Lodge Secretary, James is an extremely efficient administrator who is able to both manage things at a very detailed level as well as comprehend the big picture. In addition to such duties as keeping a perfect record of the Lodge proceedings, he has been responsible for: building the Membership database and mailing list; gathering the contact information of all the Brethren; reaching out to rusty Brothers and re-engaging them with their Lodge. Older and infirmed Brothers have been happy to hear from such an upbeat and energetic member.
At his own initiative he has single-handedly commenced the digital archiving of the Lodge's ancient documents, as well as re-built the Lodge website (so well that other Lodges and Masonic bodies have sought his help). The website is now a useful tool for visitors to learn about Columbian Lodge and Freemasonry in general, but is also a valuable interactive resource for the Officers and Members to remain in regular contact. He collates the Lodge Notice and has taken the time to clean it up, expand it and each month he provides announcements to the Members that compliment the Master's message. He deals with the correspondence received by the Lodge and all of its interactions within the First Masonic District and Grand Lodge of Massachusetts.
He has accomplished all this while finishing his Masters Degree studies at Boston University. He not only possesses the technical skills that were necessary to bring our Lodge into the modern era, but he also has the social skills to handle both District and Grand Lodge protocol with great aplomb. He rarely misses a thing, and is very skilled at tactfully ensuring that the other Officers of the Lodge don't either.
As two thirds of the senior Officers of this Lodge have held the position of Secretary, we know first-hand that it is really the Secretary who runs the Lodge. It is a testament to James's character that he handles this responsibility with such fervency and zeal, knowing well that he may never be recognized publicly for many of his efforts. It is because of his incredible skill to both manage the day-to-day operations of the Lodge and to so effectively handle interpersonal relations that we senior Officers are able to focus on those things most important on the Worshipful Master's agenda: ritual, retention, and education.
As a Brother, James exemplifies what it means to be a "Columbian Mason". His dedication to our Lodge is an example to all others. One would be hard pressed to witness a Lodge event which James has had no direct connection or participation. His humor and compassion for his Brethren and his fellow man have many times been on display. He regularly attends other lodges' functions and is an Ambassador for Columbian in his travels and when meeting the public who have expressed an interest in the Craft. He consistently volunteers his free time and energy to the many charitable endeavors of Columbian such as the New England Home for Little Wanderers basketball tournament, trip to the Shrine Circus, the Habitat for Humanity and CHIP events, the First Masonic District Blood Drives and fundraising walks. He has taken an active involvement in organizing many of these events as well.
James first introduced his girlfriend to Lodge Members at the Grand Master's Ball, and we are delighted that Francesca and he have subsequently married (several times, to each other). They even celebrated one of their wedding receptions in the Room 802 Lodge apartments! Truly this is a man committed to Columbian Lodge and Masonry. Both he and his lovely wife, Francesca, have engaged the Brethren and their families, and brought intelligence, personality and fun to each Lodge event.
James is a wonderful representative of Columbian Masonry – he is a family man, with a strong moral ethic. He is a charitably inclined individual who consistently looks to do whatever he can to help the community and those around him improve, but never looks for recognition for his effort. It is for all of these reasons and more that we award him the Columbian Lodge Brother of the Year award.
Jacques R. Lucchesi, Worshipful Master