Daniel L. Taylor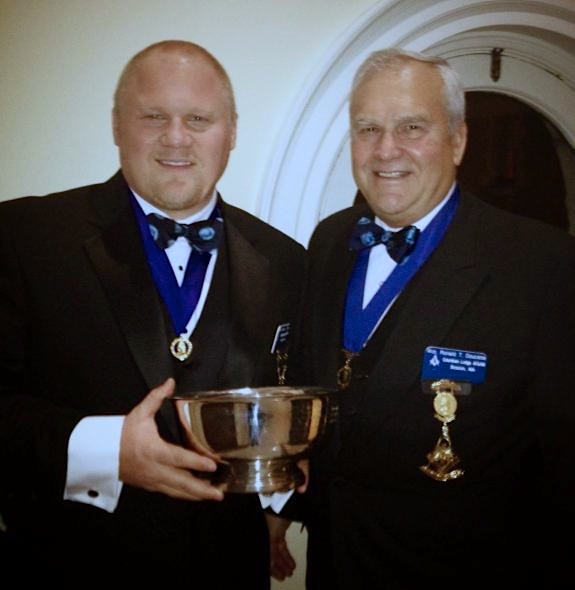 Boston, Massachusetts, December 6th, 2012
The Columbian tradition of awarding the Columbian Lodge Brother of the Year has now reached its first decade. It is fitting to remind all that the award is to honor a tireless worker in our quarry with selfless intentions. Our history of past recipients have included younger and older, uniquely talented or excessively energetic, from old guard or from newest members. All are worthy of this award.
2012 is no different for our recipient!
Legacy is in this year's brother's past with his father, grandfather and numerous uncles all rising within the Masonic ranks. He, too, has risen though several officer chairs to show his capabilities of leadership. And while he doesn't have a "Bawston Accent" when he speaks, we all know he says what he means! Some may call him a bit nerdy or techy, but he might be most comfortable with having a "need for speed" with several hundred pounds of revving metal under his seat. And, one might have noticed his need to have a picture taken with a "funny" hat nearby.
This brother has walked for breast cancer research for nearly a decade, his favorite candy is Sno-Caps, and has an unhealthy fascination with Bacon and Bourbon!
Transplanted from the Heartland of America, our Brother leaves one lasting memory to earlier days. Like... His father recalls a time at the age of 14, when this Brother decided to drive the family car to school for football practice, even though he didn't have a license, not even a learners permit! His Dad caught him when he stopped home for lunch and noticed the car was missing. Funny now, but wasn't then. When he saw his Dad walking across the football field he dropped his head in defeat. His dad took the keys and made him walk home and wait until he got home from Lodge that evening to discuss his punishment. His coach also had some fun things for him to do once they found out why his dad was there.
He is an avid golfer and has been known to hit the ball a long way, a feat that is well known thoughout the Midwest and New England.
His attendance to the needs of Columbian Lodge for filling any vacant officers chair or manage the communication of the lodge is unselfish and thorough. His heart is big and his smiles are wide.
It gives me great pleasure to present this year's Brother of the Year Award to Brother Daniel L. Taylor!
Presented by Worshipful Ronald T. Doucette, Master