Peter J. Lawson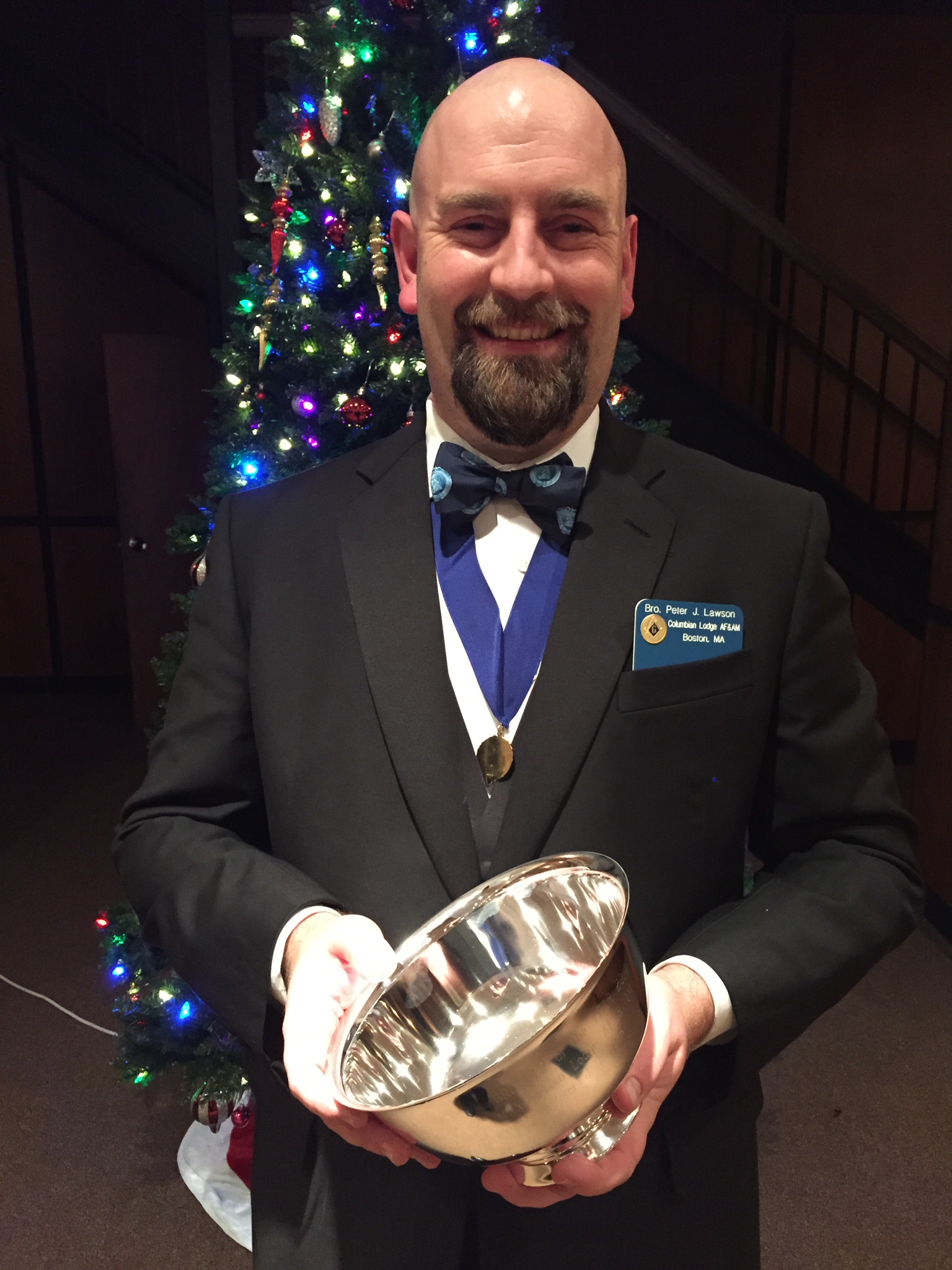 2014 Brother of the Year Award ~ Columbian Lodge
The Columbian Lodge Brother of the Year award is presented at this time every year to a brother who has distinguished himself among the members for his service to the lodge, community, or to members of the craft. The recipient is presented a pewter bowl to commemorate this honor, and additionally, has his name engraved for all eternity on the Paul Revere Pewter Bowl with the names of those brothers who have been similarly honored in the past.
This year's recipient is one of the Doer's in the Lodge. He's been an active participant at more than his fair share of Lodge events, has always maintained a solid interest in the operation of the lodge, and has distinguished himself as one of our best ritualists.
He was born and raised in New Hampshire, then went on to study at UMass Amherst. His first job as an adult was inking comic books (Probably Teenage Mutant Ninja Turtles). This led to a job in the video game industry as a graphics artist and animator.
However, his love for and attraction to lawyers (He married one, and his best man and best friend is one) led him to his true calling as a Senior Managing Director of the Trial Services division for a legal consulting firm, drawing pretty pictures for the ladies and gentlemen of the jury to look at.
He was introduced to his wife by another member of Columbian Lodge, got engaged on a trip orchestrated by that same Columbian member, and this member is now the godfather of his son.
His hobbies include fishing, smoking cigars while practicing Masonic ritual, cheering for and screaming at his beloved Patriots while breaking household fixtures, and coaching and practicing saber fencing (which he also learned from the aforementioned Columbian Lodge member).
For those who haven't yet figured it out, I'm pleased to introduce the 2014 recipient of the Columbian Lodge brother of the year award to my friend and brother, our newly installed Senior Warden, Peter James Lawson!
Respectfully,
Daniel R. Madore – Worshipful Master
December 4th, 2014